Promoting community development through global leaders
R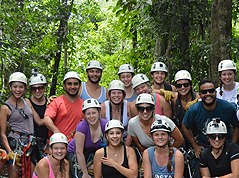 eto Juvenil Internacional is a leading non-profit association that implements development initiatives in Costa Rica, Panamá, Nicaragua, El Salvador, Honduras, Guatemala, Belize, México, Guyana, Surinam, Jamaica, Trinidad & Tobago, Costa de Marfil, Guinea Bissau and Cuba in collaboration with local and global partners. In this way, during last 25 years our organization has participated in over 540 community projects and provided training and the opportunity to more than 7.823 volunteers from different nationalities to strengthen their abilities and develop new skills to be global and local leaders. This has allowed Reto Juvenil Internacional to celebrate the cultural diversity of our world while contributing to the sustainable development of the region.
Results:  During its trajectory, Reto Juvenil has accomplished key outcomes for the development of over 540 communities all over Central America, The Caribbean and Africa. Many of them, like friendships, memories and inter-cultural experiences, are impossible to quantify. Others, like the goals and objectives we have accomplished, fill us with proud and joy, for they demonstrate the results of our commitment to the region:
        2698 development projects in:
School classrooms.
High school classrooms.
Scholar dining rooms.
Education access; Building weelchair ramps, pedestrian overcrossing, Bridgets and road access for rural schools.
Health centers.
Rural primary healthcare centers.
Ophthalmologic surgeries.
Community centers.
Training centers for women´s groups.
Rural aqueducts.
Conferences for youth groups.
Conferences for women groups.
Organic agriculture projects.
Veterinary programs.
Ecotourism projects
Environmental conservation projects.
Testimonial
Thank you so much for this opportunity to intern for and work for RJI. I had a wonderful time learning from you. Thank you for this amazing experience in the beautiful Costa Rica!


Alice Liao, Michigan University.

RJI`s list of achievements is long and their impact within the youth and development arena in Central America is extensive.


Sandra Eastwood, International Programs Manager, Youth Challenge Australia.-

We believe in the mission of Reto Juvenil. We support the work of Reto Juvenil. We will partner with Reto Juvenil. We are in solidarity with Reto Juvenil to make the world a better place.


Virginia S. Williams, Associate Professor of History, Winthrop University, EEUU.

Earth Charter International has been extremely happy with RJI's level of commitment to promote sustainability issues in their work in Central America. They put the Earth Charter comprehensively in action!


Jaana Laitinen, International Youth Facilitator, Earth Charter International

RJI is a great agency to work with. This organization lives its mission, following its core values with great tenacity


Bob Miller, Profesor of Social Work, UMichigan