Guatemala: Environmental Conservation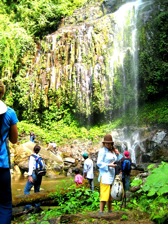 Guatemala, meaning "land of trees," is a heavily forested and mountainous nation—and the most populous in Central America. With its high and active volcanoes, scenic beauty and impressive Mayan ruins, Guatemala is often known as the Mayan heart of Central America. The indigenous culture survives in the ancient ruins of Tikal, rituals of Chichicastenango and blazing colors of Mayan dress. Deeply rooted in the rural highlands of Guatemala, many indigenous people follow traditional religious and village customs and continue a rich tradition in textiles and other crafts. Guatemala's culture is a unique product of Native American ways and has a strong Spanish colonial heritage.
Project Summary
The conservation project in Guatemala is located in the north region on the way to Quezaltenango. The project is an ecotourism and ecological park owned by Mayan K´iche Families to protect the forest of the area. You will be able to enjoy nature and learn Mayan traditional customs at the same time. The project also has a Spanish school were you can learn the language from local teachers.
Volunteer work:
As a volunteer you can work in trails maintenance, building stairs, gardening, and teaching English in the local school.
Location:
The projects are located about 1000 meters above sea level in the province of Quetzaltenango. It is about 4 hour drive into the mountains north from Guatemala City.
Accommodation and Food:
You will live at the lodge located within the project. You will enjoy some typical Guatemalan food (tortillas, beans, vegetables, fruits). Breakfast, lunch and dinner are provided by the association.
Travel Arrangements and Transportation:
Booking air travel to your destination is your responsibility, but we are more than happy to help you as needed. For domestic traveling and specific logistics RJI will provide the respective information at the time.
Dates, duration and participation:
•    Individual or group volunteer (minimum 6)
•    Duration 1 to 4 weeks
•    Age 18+
General Requirements:
Spanish is desired but not mandatory. The most important requirement is to bring a positive attitude, and be willing to get involved in our Central America n culture. You must love the outdoors and not mind working in any weather, be easy going and be able to work alongside the local community as much of your time will be spent with the locals and families and finally  be ready to enjoy this experience.
Program Costs
Included

Not included

Lodging / 3 meals per day

Airfare

Transportation to host community

In country transportation

Pre-departure and arrival Orientation

Phone cards

24 hours emergency staff

Internet

 

Meals during orientation

 

Medical/Accident Insurance