Guatemala: Health Care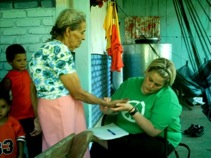 Guatemala is recognized as the cultural center of the pre-discovered New World. As the origin of the mysterious Mayan Civilization and still predominantly indigenous, the country offers some of the continent's richest folklore. The cultural blend of the indigenous, Spanish and African peoples can be seen in many aspects of daily life. Ancient rituals are intertwined with Christianity.
Project Summary
The project is looking for general medicine students, doctor, nurses, and other health professionals and non-medical support volunteers to care for people who otherwise would never receive professional medical care. We're reaching communities devastated in the past by war and act politics and we're giving them a fighting chance at self-reliance, health and dignity developing primary care programs to address the extreme lack of medicine, medical personnel, and common health delivery available to the Guatemalan indigenous population. The country's acute lack of health care services is directly connected to government neglect and discrimination against the indigenous majority.
Volunteer work:
You will have the opportunity to visit different communities around Quezaltenango province and work with the staff of a local NGO in basic health care duties. This project aims to provide medical assistance to poor people who are unable to afford medical care. Volunteers with any medical background or level and nurses, are particularly needed but non-trained volunteers can assist in a range of daily duties. Volunteers can also work with rural health posts from the Ministry of Health. Volunteer work may include:
•    Vital Medicines
•    Medical Supplies
•    Personal Hygiene
•    Ongoing Primary Care
•    Seminars/Workshops
•    Interventions to improve maternal and child care
•    Reproductive health
•    Contraceptive effectiveness
•    Programs to prevent HIV and other sexually transmitted infections
•    Educational Materials – Texts and handouts translated into the country's native language
Location:
The projects are located in the province of Quetzaltenango. It is about 4 hour drive into the mountains north of Guatemala City.
Accommodation and Food
You will live at local NGO facilities. You will enjoy some typical Guatemalan food (tortillas, beans, vegetables, fruits). Breakfast, lunch and dinner are provided by the association.
Travel Arrangements and Transportation
Booking air travel to your destination is your responsibility, but we are more than happy to help you as needed. For domestic traveling and specific logistics RJI will provide the respective information at the time.
Dates, duration and participation:
•    Individual or group volunteer (minimum 6)
•    Duration 1 to 8 weeks
•    Age 18+
General Requirements:
Spanish is desired but not mandatory. The most important requirement is to bring a positive attitude, and be willing to get involved in our Central America culture. You must love the outdoors and not mind working in any weather, be easy going and be able to work alongside the local community as much of your time will be spent with the locals and families and finally  be ready to enjoy this experience.
Program Costs
Included

Not included

Lodging / 3 meals per day

Airfare

Transportation to host community

In country transportation

Pre-departure and arrival Orientation

Phone cards

24 hours emergency staff

Internet

 

Meals during orientation

 

Medical/Accident Insurance